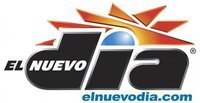 Daniel Lee Knapp spent six years assigned to the FBI office in San Juan
by ELNUEVODIA.COM
FBI agent Daniel Lee Knapp, who died on Thursday trying to rescue a drowning vicitim on a beach in Fajardo, Puerto Rico
Knapp, 43, worked in the public corruption squad of the FBI in San Juan.
"The agent Knapp exemplified the ideals of the FBI and also possessed the attributes that define a truly wonderful person. He died a hero, saving another life. We will miss him tremendously, "said the head of the FBI in Puerto Rico, Joseph Campbell.
The deceased is survived by his parents and four siblings, said Campbell.