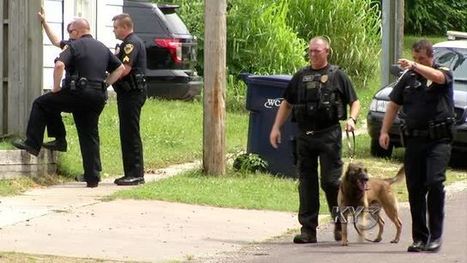 " No regrets." That's how Rick Rogers says he felt after he shot and killed 40 year old Kenneth Fry. Police say Fry and several others broke into Rogers' home early Saturday morning. " I would do it again," says Rogers. " If they do it again, I would do it again. You got to protect your family."

Rogers says his girlfriend, Chelsea St. John, and daughter-in-law were inside the home at the time. All intruders were armed. " I cant explain to you the feeling that that is," says St. John.
She says when they realized that the men were in the house, Rogers went upstairs to grab his gun. She followed close behind until Fry got a hold of her. " He grabbed me by the back of my hair and pulled me back down and said "get on the floor, you know I will kill you." And I went to the kitchen and was going to get on the floor and he didn't even wait for me to get on the floor he took upstairs after Rick and that's when Rick shot him," says St. John. Rogers says he didn't think twice. "I was able to get my gun first and shoot one of them. The other 3 heard my shot and left out the back door. "

St. John says she was greatful for her boyfriends quick actions. " After Rick went chasing after the 3 that took off, I opened our door at the back and started hollering for somebody to call 911to get some help. The guy that was running came out from this bush right here it was still dark, almost starting to get daylight," says St. John.

Chelsea says much of that morning was a blur, but she says the eyes of the man hiding behind the bushes were hard to forget.

Fast forward to Sunday afternoon; Chelsea says she saw those eyes again. She says she saw two men walking nearby and believes one of them was among the intruders from Saturday morning. " I told the police the look that passed between us wasn't a look like "why are you looking at me. whats up?" The look was "yes, I know you and I know you know me and I will be back" and that is scary to me, that is very scary, "" says St. John.

When police arrived, the two men fled. Police chased the suspects on foot and caught one of them. The other one is still on the loose.
Police believed the man barricaded himself in a home a couple houses down from Rogers'. No one was found inside the house but Police continued to canvas the neighborhood. Police can not confirm if this incident or the suspects are related to the home invasion. This investigation is currently on going.