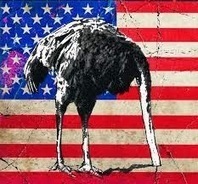 American sheeple stick heads in the sand, pretend to be ostriches.


Anthony Freda Art
Paul Craig Roberts
Activist Post

American taxpayers have built an entire city in Virginia so that the Pentagon, can practice occupying American cities and putting down protests by US citizens. This fake city is the training ground for the doctrine outlined in a leaked US Army document that describes how soldiers are to be trained to put down domestic disturbances and process prisoners through detainment camps where prisoners will be re-educated to appreciate US policies. In situations of "extreme necessity" the training embraces deadly force: "Warning shot will not be fired. When a firearm is discharged it will be fired with the intent of rendering the person(s) at whom it is discharged incapable of continuing that activity or course of behavior." Lecturers in the training courses describe constitutionalists as "domestic extremists."

Does this make the President of the United States, whose oath of office is to defend the US Constitution against enemies domestic and foreign, a domestic extremist? Is the fear of arrest by Homeland Security as a domestic extremist the reason Obama refuses to defend the Constitution of the United States?