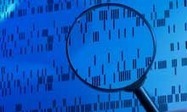 Researchers push for end to publishers' default ban on computer scanning of tens of thousands of papers to find links between genes and diseases...
This technique, called text mining, is a vital 21st-century research method. It uses powerful computers to find links between drugs and side effects, or genes and diseases, that are hidden within the vast scientific literature. These are discoveries that a person scouring through papers one by one may never notice.It is a technique with big potential. A report published by McKinsey Global Institute last year said that "big data" technologies such as text and data mining had the potential to create €250bn (£200bn) of annual value to Europe's economy, if researchers were allowed to make full use of it.
Unfortunately, in most cases, text mining is forbidden. Bergman, Murray-Rust, Piwowar and countless other academics are prevented from using the most modern research techniques because the big publishing companies such as Macmillan, Wiley and Elsevier, which control the distribution of most of the world's academic literature, by default do not allow text mining of the content that sits behind their expensive paywalls.
Any such project requires special dispensation from – and time-consuming individual negotiations with – the scores of publishers that may be involved.