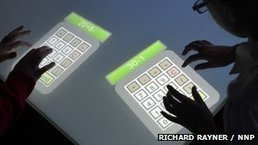 Traditional exams will die out within a decade in favour of online assessment, predicts a private schools' leader.
Pen and paper exams will be a thing of the past by 2023, David Hanson of the Independent Association of Prep Schools will tell its annual conference.
"Technology will have been completely embraced" by a generation of teachers who grew up with it Mr Hanson will say.
Simon Lebus of the exam board OCR predicted "slow migration to e-assessment in high stake exams".
However he added that "the process will be evolutionary in that different subjects are likely to migrate at different times."