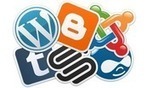 Being a wordsmith, I master one dance form. The only form I have ever known since I embarked upon my writing career.
What's the use of a coffee shop with no visitor?
Blogs are quite the same. Take time, write well and promote it to take the world of blogging and online content marketing by storm.
Get your language and let others know of it through promotion. Creative promotions rarely fail to live up to expectation. Be creative and steer your blog to the way of huge commercial success after facing boldly every single bump.