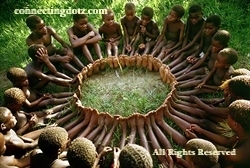 Image found at http://connectingdotz.com
"So I am proposing to create a gift tribe. What is a gift tribe? It is a community of people who sees, acknowledges and invests in an imaginal cell to liberate him/her from the struggle of monetizing his/her work in the world, in order to release their full creative potential to focus on the very thing they were born to create here and now."
"This is an experiment. It's a prototype. For the next 12 months, starting June 2012, I am calling on 50 people..."
Via
Sepp Hasslberger