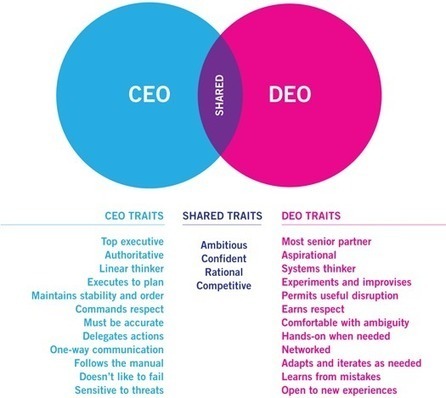 Posted 12.11.13
An excerpt from the book Rise of the DEO by Maria Giudice & Christopher Ireland.
(...)
We live in a time where little is predictable. No career path is predetermined. No one can play it safe. The majority of companies, their employees, and their leaders navigate a space where competitors appear overnight, customers demand innovations monthly, business plans rarely last a full year, and career ladders have been replaced by trampolines. This environment of incessant, nonlinear change will only accelerate in the future. Traditional CEOs are ill-equipped to survive.
(...)
A logical response to these avalanches of advice is to surrender. We throw up our hands and hope our inherent traits or some measure of luck will suffice. Perhaps we'll work for the right startup, or get the attention of the right boss, or happen upon the right industry in its earliest stages. Maybe we'll stumble across a mentor who can help us make sense of conflicting paths and tortuous routes.

Another response — the one advocated in this book — is to identify the business function best suited to these tumultuous times and use it to guide your actions. (...)
Now that companies need agility and imagination, in addition to analytics, we believe it's time to turn to Design as a model of leadership.
(...)
Proposing design-inspired leadership as the answer may sound delusional to some, like a zealous art teacher attacking poverty with a new color palette. But that's a knee-jerk reaction, based largely on associations of design with discretion, luxury, and logos. A more realistic assessment confirms that design leaders usually possess characteristics, behaviors, and mindsets that enable them to excel in unpredictable, fast-moving, and value-charged conditions.