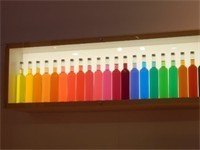 22 Nov 2013 --- At this year's Food Ingredients Europe, GNT Group, pioneer and global market leader in Coloring Foods, presented the company's new line of EXBERRY products. For the first time, the family-owned company has oil dispersible Coloring Foods in its portfolio for oil- and fat-based foods such as chocolate, chocolate compounds or fat coatings.
GNT is the first company to offer customers oil dispersible Coloring Foods encompassing the entire spectrum of color shades. The products are available in red, blue, yellow and green shades for example and can be mixed to produce a wider range of colors.
Like all GNT Group products, these new Coloring Foods are made from fruits, vegetables and plants. They are processed to edible concentrates through gentle physical methods and without the use of chemicals. Thus, Coloring Foods are suitable for the production of so-called "clean label products".