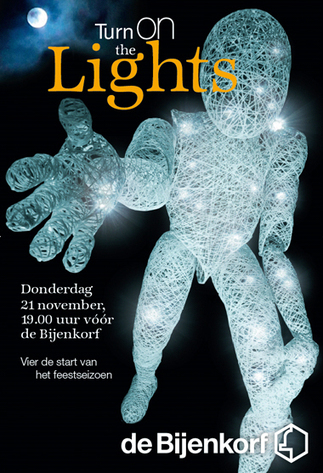 Beleef het bijzondere lichtspektakel in Den Haag
Dit jaar voor het eerst ontsteekt de Bijenkorf tijdens Turn on the Lights de grootste feestverlichting van Nederland ook in Den Haag. Met maar liefst 400.000 lampjes op de Bijenkorf Amsterdam en Den Haag is Turn on the Lights dé nationale start van het feestseizoen.

Het belooft een onvergetelijke avond te worden, die u niet mag missen. Wij nodigen u daarom graag uit om dit unieke evenement gratis bij te wonen. Om 19.00 uur verzorgt burgemeester Jozias van Aartsen de opening van dit bijzondere evenement in de Grote Marktstraat in Den Haag. Hierna kunt u genieten van de prachtige internationale straattheateract Dundu, met als hoogtepunt het ontsteken van de feestverlichting van de Bijenkorf.
Aansluitend viert u in de Bijenkorf Den Haag de start van het feestseizoen tijdens een speciale koopavond met live muziek tot 22.00 uur. Een mooi moment om u te laten inspireren voor de feestdagen in onze wereld van luxe merken.
De Bjienkorf Den Haag (Grote Marktstraat)

21 november
19.00 uur

Feestelijke activiteiten
Tijdens deze speciale koopavond zijn er veel extra feestelijke activiteiten in de Bijenkorf Den Haag.