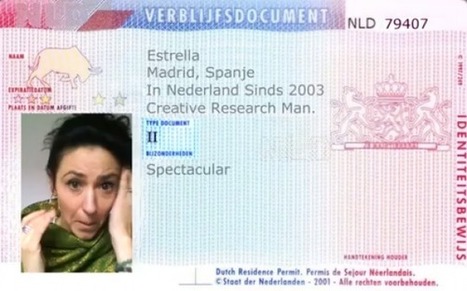 By Gabrielle Kennedy / 17-01-2013
Like in most developed countries across the globe, immigration has evolved into a sensitive and complex issue in the Netherlands – a conflux of emotions, insecurity and concerns. Some parts of the political world – both here and abroad – have capitalized on that mental uncertainty to do little more than aggravate what must now be called a problem.
DAE (Design Academy Eindoven) graduate Dick Bakker (Izaak Imagery) delved into this issue creating a series of films titled "Under Construction: the Netherlands." In it the infamous Dutch residency identity card – compulsory for all legal foreigners to carry on their person – was portrayed, but in the bottom left hand square where a still photograph usually sits, he beamed video footage of the person living life.

The result was to give these normally anonymous foreigners an identity – moving them beyond the mere statistic they are only ever known as.

Bakker's larger point is that the ongoing debate does not represent the true face of immigration.

For this project he consulted with immigration lawyer Jeremy Bierbach, a naturalized Dutchman whose legal practice specializes in this very issue.
(...)
"My inspiration for critical thinking comes from 'The History of the Passport' by John Torpey," Bierbach says. "These sorts of identity documents are quite recent.
(...)
See also;