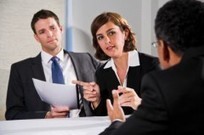 The Glass Hammer on How Women MBAs are changing the system
"When we spoke to leaders and professionals from around the world we didn't ask what women should do or what women were doing wrong; we asked what key attributes are necessary for a corporate leader," Romero says. "We identified five key pieces that will help women move forward."
The first piece of the puzzle is learning what makes a strong leader and teaching women how to lead themselves, lead their careers, and lead others. The second is having a global mindset. The third is cross-gender communication skills. The fourth is cross-cultural communication skills and lastly, the fifth was cross-cultural ethics.
"Corporate culture isn't supporting women, but when they have these skills in their back pocket there won't be an option anymore, they must be given a seat at the table because companies need them and can no longer afford not to utilize them. Women don't need corporate America, that's why they're leaving. It's not to have babies, it's because the culture doesn't support them," Romero says.
Paradigm Shift
It does appear as if many companies are recognizing this, as evidenced from the number of corporate sponsors MBAWI has garnered for its International Leadership Academy and next month's Leadership Conference and Career Fair, taking place in Phoenix Arizona from the 18th through the 20th. Sponsors include American Airlines, AT&T, Intel, and even Walmart, which has had a rocky history when it comes to promoting women. According to Romero, part of the change is a direct result of women themselves, who are now "voting' with their checkbooks. This was illustrated by Facebook's turbulent IPO earlier this year.
"Why would women buy stock in a company that didn't have a single female board member at the time?" Romero asked. "Women still make 80 percent of the financial decisions and when they don't see gender parity, they're no longer willing to look past it anymore. The bottom line is that it's about the bottom line. More women in the C-suite provides a higher return on investment. It's time for a huge paradigm shift and all of us at MBA Women International are literally burning with excitement to help make it happen."
Via
Marion Chapsal
,
Momentum