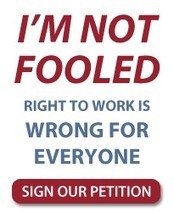 WHO'S BEHIND RIGHT TO WORK?
Ignoring the facts about "right-to-work," far-right politicians across the country are promoting these deceptive policies as payback to their Big Business donors. By weakening workers' ability to have a say about their job, right to work weakens unions' ability to serve as an advocate for all workers and a check against corporate greed.
Without solid evidence to back their claims, the politicians advancing right-to-work legislation depend on a coordinated network of extremist right-wing groups to provide resources, research, and an echo chamber that pave the way for right to work.
The most well-known of these cash-flush special interest groups include the American Legislative Exchange Council (ALEC), the U.S. Chamber of Commerce, and the National Right to Work Committee. Read on to learn more about the groups working overtime to make every state a right-to-work state.
ALEC
Right to work has gained some momentum as result of the collusion between Big Business and allied lawmakers involved in ALEC, an established conservative group backed by corporate special interests that peddles influence with state legislators. While much of its work has gone on behind closed doors, several media outlets and the Center for Media and Democracy have recently exposed how ALEC operates, peeling back the curtain on the significant political influence it wields at the state level. ALEC gives companies and politicians a shared role in developing its legislative prototypes, which are then introduced in copycat fashion by its members in legislatures nationwide. As part of its extremist agenda, ALEC and its members aim to limit the rights of workers and their unions through initiatives such as right to work. Check out Progress Missouri's ALEC exposé, which reveals just how similar Missouri's proposed right-to-work bill is to ALEC's draft legislation.
In the ultimate irony, ALEC gives corporations a voice and a vote in order to rob workers of theirs. ALEC's leadership and membership include executives from corporations like Comcast and Walmart that are notorious for their low-wage, anti-worker business practices. ALEC is also tied to heavy hitters in the Tea Party movement, like the billionaire Koch brothers, who channel their vast wealth to far-right groups and politicians and helped orchestrate Wisconsin Gov. Scott Walker's repeal of public employees' collective bargaining rights.