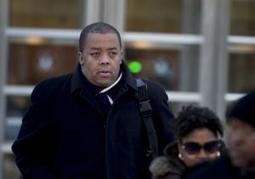 A federal prosecutor urged jurors to convict the Brooklyn Democrat of corruption charges backed by a mountain of evidence showing he put himself and his office up for sale to undercover FBI agents posing as shady businessmen.

"We've taken you into the underbelly of the defendant's corrupt, secretive and deceitful schemes," Assistant Brooklyn U.S. Attorney Lan Nguyen said Monday in her closing argument.

"Each one was designed to line his pockets with illegal money at the expense of his constituents, the elderly and taxpayers," Nguyen said.

Boyland, 43, betrayed no emotion during the prosecutor's three-hour summation of secretly recorded tapes and videos, text messages and documents detailing schemes to solicit bribes from the undercover agents who were seeking favors from the political scion.

In one damning video recorded by the FBI agent, Boyland accepted $7,000 in cash that he desperately needed after he was arrested in a separate corruption case by the feds in Manhattan.