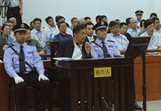 Ousted Politburo member Bo Xilai remained defiant as his corruption trial ended with prosecutors calling for a severe punishment, in a case the Communist Party called proof of its determination to target high-level graft.
Bo accused his former police chief, who testified at the trial in the eastern Chinese city of Jinan, of being in love with his wife as he again asserted his innocence of the bribery, embezzlement and power-abuse charges against him. The bribery claim was something "even the lousiest TV drama scriptwriter wouldn't create," he said...
Bo's rebuttals yesterday concluded a five-day trial in which the court posted transcripts online, an unprecedented move that state media called evidence of the proceedings' transparency. The party is seeking to win over a public that's increasingly well-informed -- and unafraid to speak out -- about official corruption that President Xi Jinping has said threatens its grip on power.
"The judgment and the sentence may be pre-ordained, but they took the risk to let him speak," said Jean-Pierre Cabestan, a political science professor at Hong Kong Baptist University. "The question among the public is that many other leaders may be corrupt the same way. They enjoy so much power and there are no checks and balances." The official Xinhua News Agency said the verdict would be announced at a date still to be decided.