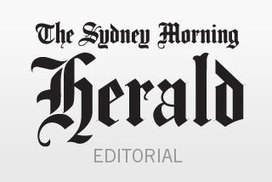 A federal anti-corruption watchdog is essential to restoring trust in politics, public officials and business...
It is time the Liberal Party accepted that corruption among politicians, public officials and businesspeople is not confined to the states or to its opponents.
Both sides of politics are facing a crisis of trust with voters, who recognise that federal and state organisations are intertwined and that holes in the nation's anti-corruption defences are easily exploited.
Labor, rightfully bludgeoned for its failings, has also been complicit in blocking attempts to create a federal anti-corruption watchdog modelled on the NSW Independent Commission Against Corruption.
But at least NSW Labor is moving towards reversing that untenable position.
Advertisement
It is up to Prime Minister Tony Abbott to follow Labor's lead.
Thanks to the dogged work of the ICAC, Herald reporter Kate McClymont and colleagues, Australians have seen what goes on in the corridors of power.


Read more: http://www.smh.com.au/comment/smh-editorial/federal-icac-corruption-knows-no-borders-20140731-zytfp.html#ixzz394AL0evE