Scoop.it!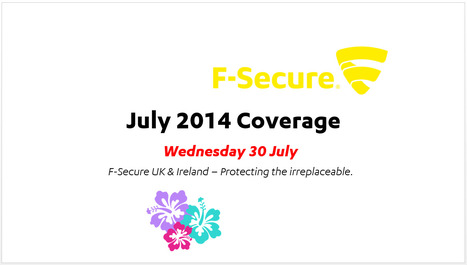 F-Secure UK & Ireland coverage from 31st July.
F-Secure UK's insight:
The Inquirer
Security researcher finds exploitable flaws in 14 major anti-virus engines
Includes the reactive quote. F-Secure come off the best in this piece compared with other security vendors.
PC Advisor
Antivirus products riddled with security flaws, researcher says
Brief Mention of F-Secure
"During his SysScan talk, Koret disclosed vulnerabilities and some other security issues, like the lack of ASLR protection for some components, in antivirus products from Panda Security, Bitdefender, Kaspersky Lab, ESET, Sophos, Comodo, AVG, IKARUS Security Software, Doctor Web, MicroWorld Technologies, BKAV, Fortinet and ClamAV. However, he also claimed to have found vulnerabilities in the Avira, Avast, F-Prot and F-Secure antivirus products."
IT Security Guru
US Department of Defence seeks $5 billion in cyber funding
Mikko Hypponen quoted
Mikko Hypponen, chief research officer at F-Secure, pointed out that the cyber operations budget for 2015 is 8.5 per cent larger than for 2014. "In any case, the budget for cyber operations is huge. For comparison, I believe DARPA's budget is $3 billion, he said.
The Inquirer
Google updates Play store API for Android developers
Brief Mention of F-Secure
In April, F-Secure revealed that 99 percent of mobile malware came from the Android operating system, however of that, just two percent was found in the Google Play store. Up to one million Android users fell victim to a Bitcoin mining virus after downloading infected software.