Scoop.it!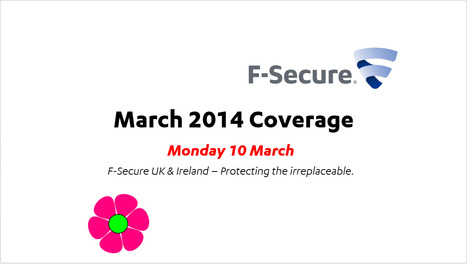 F-Secure UK & Ireland coverage from 10th March.
F-Secure UK's insight:
Computer Active!
Stop Hackers Locking Your PC
(PRINT)
CommsBusiness
F-Secure Fights Malware
(Article based on F-Secure Threat Report H2 2013 (Government Surveillance, Mobile Threats etc.) and Mikko Hypponen Quoted)
Acumin
Mobile firms unite to fight mobile crime
("Nokia's software architecture team has joined forces with F-Secure, the security vendor, in a bid to combat a surge in mobile malware … The joint venture between Nokia Solutions & Networks and F-Secure will be of benefit to both tablet and handset vendors in developing integrated security and anti-malware product software".)
Aol
Upgrade or risk being hacked, Windows XP users warned
(Mention of F-Secure Threat Report H2 2013)
Play3r.net
Public Wi-Fi Not Safe!! Well DUH!
http://www.play3r.net/news/public-wi-fi-safe-well-duh/
(Quote from Sean Sullivan from media alert)
PCPro
Europol warns: public Wi-Fi isn't safe
(Quote from Sean Sullivan from media alert)
ITBriefing.net / Yahoo! Finance / Sector Publishing Intelligence / DNS Zone
Infonetics: Mobile Device Security Taking Front Stage as Businesses Try to Get Tighter Grip on Mobile Gear
(Brief Mention – F-Secure named as one of the key security vendors in relation to mobile security, cloud and SaaS solutions etc.)
Reuters (UK) / Trust.org (Thomas Reuters Foundation) / Self Trade / Yahoo! and Yahoo! Finance
INSIGHT-Suspected Russian spyware Turla targets Europe, U.S.
"F-Secure, a Helsinki-based maker of security software, first encountered Turla last year while investigating organizations attacked, according to chief research officer Mikko Hypponen. He also declined to name victims. "While it seems to be Russian, there is no way to know for sure," said Hypponen … Hypponen said Agent.BTZ was initially found in a military network of a European NATO state in 2008, but gave no details. F-Secure is credited with naming that piece of malware in 2008, though researchers believe it was created already in 2006".