Scoop.it!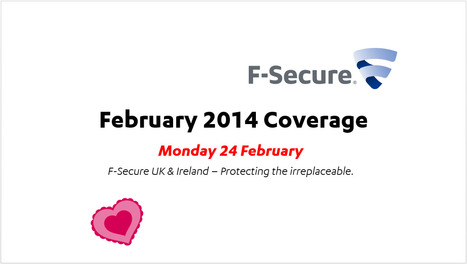 F-Secure UK & Ireland coverage from 24th February.
F-Secure UK's insight:
SC Magazine UK
SC Awards Europe 2014 finalists announced
(F-Secure nominated for "Round Eight: Best Managed Security Service" Award at SC Magazine UK!)
Reombu
Jolla launches Sailfish OS 1.0 ahead of imminent global rollout
(Mention of F-Secure partnership with Jolla smartphone maker): "Users will also have access to personal cloud storage, provided by F-Secure and the Jolla team are already exploring ways to integrate Sailfish OS with hardware from other OEMs and ODMs internationally".
The Register
Jolla announces Sailfish OS 1.0, says Android love-fest soon to come
(Mention of F-Secure partnership with Jolla smartphone maker): In the months since its public launch, Jolla has been lining up partnerships with companies to support its phones and Sailfish OS. F-Secure will soon offer Jolla customers gigabytes of cloud storage through its younited service, while Tieto will offer Sailfish OS integration services to OEMs.
Computer World UK/Tech World/PC Advisor
New smartphone OS flags will fly at Mobile World Congress
"On Friday, the company also announced partnerships with game developer Rovio and security vendor F-Secure. Rovio is developing an Angry Birds smart cover with exclusive content, but exactly what that entails won't be announced until the second quarter. The deal with F-Secure will give users integrated access to the hosted storage service Younited, which the security company pitches as a safer alternative to Dropbox and Microsoft's OneDrive".