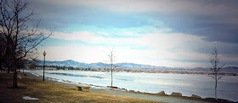 This meeting was exceptional because after one face-to-face workshop last summer and a full semester of virtual collaboration on the creation of a unit, teachers were again face-to-face to create new units for the spring semester.
They are creating common units around common content standards, but not scripted step-by step standardized units. Each teacher contributes to the lessons and makes appropriate adjustments to meet the needs of individual learners in each class.
Teachers are encouraged to think beyond multiple choice tests and toward performance based assessments that will measure deeper learning. Importantly, teachers lead the unit design and make decisions about the units; their work is facilitated by content experts from Stanford's Center for Assessment Learning and Equity.