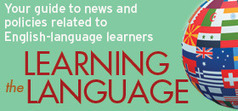 When a low-level English-learner answers a long-division problem incorrectly on a state exam, is it because the student can't do the math? Or is it because the student lacks the English proficiency to understand the directions?
With the tests used now, discerning the reason is difficult, if not impossible.
But as test designers work to craft the new, common assessments set to debut in most of the nation's public schools in the 2014-15 school year, their goal is to provide all English-language learners, regardless of their language-proficiency levels, the same opportunities to demonstrate their content knowledge and skills as their peers who are native English-speakers or former English-learners.