Scoop.it!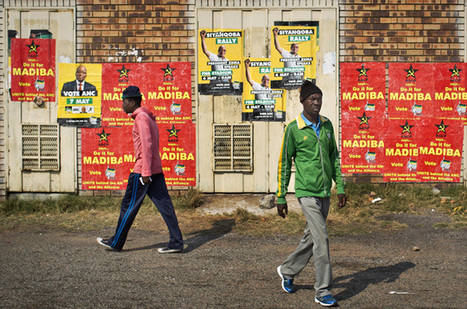 As South Africa heads to the polls, many of the country's younger generation are boycotting the vote.
Eli Levine's insight:
The ANC may be able to appeal to the older generations from their anti-Apartheid past. People from that era may be able to forgive the ANC's violations of democracy and human dignity for what they did to relatively improve the quality of life for most South Africans.
However, I think the ANC is going to find their support whither up with the generational eclipse if they do not do more to help people and do less to stuff their own faces with financial wealth and relative power in South Africa.
We have competing legacies in South Africa, much like the United States has a competing legacy between raw Capitalism where people used to be able to own other people and social egalitarianism where everyone is seen as needing and deserving equal rights and opportunities under law. In South Africa, it seems to be between corruption at the top levels of society with a bottom up desire for accountability, inclusion and egalitarianism amongst the peoples of South African society. If the South African elite were smart, they'd abide by this bottom-up desire rather than ignoring it. The ANC may have won about 59-60% of the vote this round. But, as the older generation dies off (and they will die off), who will be around tro remember the horrors of Apartheid directly and be willing to tolerate the abuses of the ANC for getting rid of those horrors? Better to adapt now, get rid of the baggage now, and be prepared to reap the bounty of the younger generation from now into their adulthood. Rinse and repeat for each generation.
Think about it.