Scoop.it!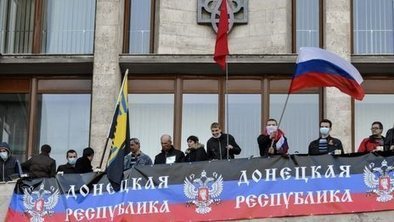 Pro-Russian protesters storm government buildings in three eastern Ukrainian cities, calling for a referendum on independence.
Eli Levine's insight:
This was bound to happen.
And yet no one is reporting on what the Ukrainian government in Kiev is doing in light of these protests and concerns.
At least, no one in the West.
And it's so very hard to trust the media from Russia as well, due to the fact that people are talking over people, rather than listening for what needs to be done.
There are legitimate economic, social and strategic concerns with regards to Eastern Ukraine and Crimea that I haven't heard the Ukrainian government address adequately or effectively. There is also the question as to why the West was so eager for Yanukovych to fall, when this conflict could easily have been predicted between the Russian and the Ukrainian speaking people. If they had been paying attention to the people, rather than to elite governmental, academic and traditional intelligence sources, perhaps we could have worked more effectively in this conflict, rather than just becoming an antagonistic advocate for a side that isn't really 100% in the right?
Has that occurred to anyone in our policy making fields who actually have favor and the attention of our government?

Doubtful.
Think about it.