Scoop.it!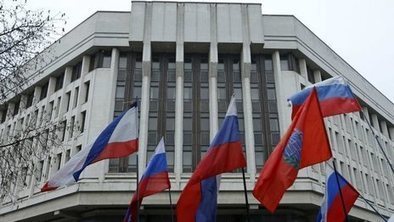 Ukraine warns Russia against "military aggression" in the Crimea region, as armed men seize the regional parliament building.
Eli Levine's insight:
add your insight...
Things are heating up. I wonder if Russia is behind the seizure of the Parlaiment.
Wouldn't surprise me. But this could be the beginning of the subtle tet au tet that started as soon as Viktor Yanukovich left office. Ukrainians failed to set a conciliatory tone with the Russians, the Russians either aren't going to accept a conciliatory tone or are going to fight against the more unilateral and hostile tone that the Ukrainians have set. Unfortunately, because the Ukrainians didn't set a welcoming, warm and conciliatory tone with the Russians from the get-go, they're going to have an extremely uphill battle brining the reluctant Russians along with them into the revolution. They should have included some Russians in the cabinent, and discredited the Nazis that were within their midst, in order to create either a narrative that they're TRYING to work with the Russians or, if the tactics worked, would have led to the longer term reconciliation and unification of Ukraine under a peaceful government. Who knows, perhaps the history and the culture of their politics would have prevented such things from working. Yet you'd think with our remarkable abilities to change ourselves and our condition that history wouldn't be so much of an issue. However, it is, especially when there's negative blood invovled. The problems of the parents get passed down to the children, and no reconciliation or room for forgiveness is left. A shame, since it is forgiveness which enables us to grow from conflicts rather than be handicapped by them for long periods of time. But, that's a fault of the universe and of the human species. Failure to practice love, compassion, empathy and understanding leads to these impasses. And, we all hurt on this level, as economies are hindered, societies torn apart and polities are destabilized and delegitimized. Sad.