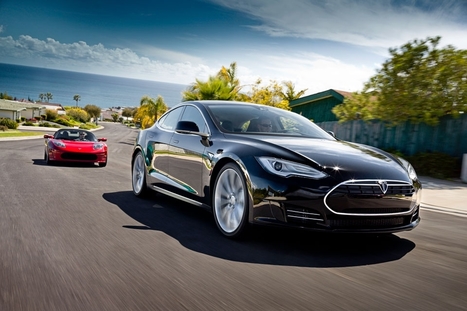 Pic - Tesla Model S and Roadster

Governor Romney -
"I have the kind of commitment to make sure that our industries in this country can compete and be successful"
"We in this country can compete successfully with anyone in the world"
"And we're going to"
"WE"RE GOING TO HAVE A PRESIDENT, however, that doesn't think that somehow the government investing in — in car companies like Tesla and — and Fisker, making electric battery cars — this is not research, Mr. President"
"These are the government investing in companies, investing in Solyndra. This is a company. This isn't basic research. I — I want to invest in research. Research is great. Providing funding to universities and think tanks — great"
"But investing in companies? Absolutely not. That's the wrong way to go."
Technically, the U.S. government has not "invested" in any of the named companies.
It does not have an ownership share--unlike its equity holding in General Motors and, previously, Chrysler.

Instead, both car companies received low-interest loan guarantees from the U.S. Department of Energy under its Advanced Technology Vehicle Manufacturing program, launched in 2008 under the administration of President George W. Bush.
http://www.cool-electric-cars.com/climate-change-is-simple.html