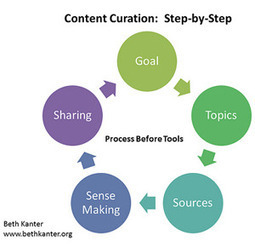 This piece was written by Jeff Turner who has curated a great conversation from members of a tweetchat #tschat today.
There are many forms of curation, I think this is an excellent real life example of the many ways you can use curation to add value for others.
I agree with this, no matter what you're curating, it has to have a story that ties it together:
"Curation is a form of storytelling. Curation tools need to support this truth."
**Collecting content without qualitative human judgement is aggregation, not curation. The best automation tools alone will never replace the ability of a human being to provide meaningful context.
****And the best curation, the curation I subscribe to via email, takes context to the next level. It tells a story.
**This post is being written, primarily to serve as an example of what I'm calling "social curation."
**The act of curating a conversation, like the one that took place this morning at #tschat, should be a storytelling act.
**every act of curation is a storytelling exercise, whether you use a tool hosted on a third-party site, like Pinterest or Storify, or whether you choose to use tools that allow you to self-host your curation.
**In the end, the story is what matters. It's what has always mattered. Have I told a story, or have I simply collected a bunch of links?"
Selected by Jan Gordon covering "Content Curation, Social Media and Beyond"
Read full post here: [http://bit.ly/uSxFoL]