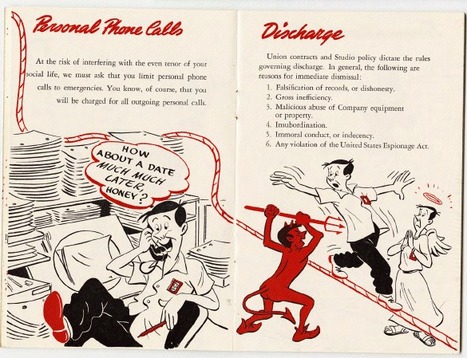 Maria Popova never disappoints, this is her latest post from her blog Brainpickings.
Talk about curation, this takes it to a whole new level - great post for a Saturday.
Enjoy!
"If you unwittingly slip off the beam, it will give you painless nudge in the right direction. Please read it carefully."
In 1943, Walt Disney Productions' personnel department set out to eliminate confusion for the company's workforce with the publication of an employee handbook titled The Ropes at Disney.
It was an effort to reconcile the need for organizational order with Disney's effort to craft an image of an informal, irreverent, fun employer who seeks to "maintain a friendly relationship between Company and employee" (but, apparently, deems only the former worthy of capitalization).
http://www.brainpickings.org/index.php/2011/09/29/the-ropes-at-disney-1943-employee-handbook/