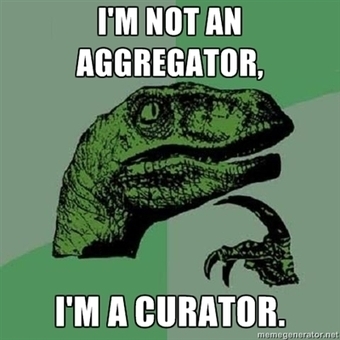 I´m working on this, because true curation is more than aggregation.
Steve Rosenbaum said:
«The word curation may seem to be a synonym for aggregation, but in fact it's a double for "intelligent aggregation". Museum curators do not, I hope, assemble as much art as possible for an exhibition; rather they apply judgment in selecting what they deem to be appropriate.»
(via http://classic.abnormalreturns.com/content-vs-aggregation-vs-curation/ ;
and http://www.masternewmedia.org/real-time-news-curation-the-complete-guide-part-2-aggregation-is-not-curation/)
Love curation! Love memes!