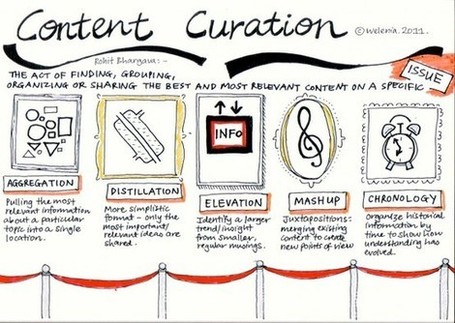 Curated by Beth Kanter
I have been exploring Pinterest as a curation tool.
I did a search on "curator" and found this visual, but wondered whether it really encapsulates the definition today? The visual is inspired by Rohit's thoughts on curation from 2011:
The Five Models of Content Curation
http://www.rohitbhargava.com/2011/03/the-5-models-of-content-curation.html ;
Here is how Rohit's thinking has evolved on content curation - a post from 2010 for Robin Good, plus a link back to his 2009 post.
http://www.masternewmedia.org/content-curation-why-is-the-content-curator-the-key-emerging-online-editorial-role-of-the-future/
One thing I discovered (by subjective observation) is that many users are not really curating. They are aggregating lots of images.
There is a "repin" button - like the Twitter RT button. There seems to be a lot of user behavior that people just repin the visuals into collections but do not provide context or conversation. The interface design does automatically document where the original image/visual was found.
I did find one collection that was from educator that was looking at curation tools and even here I noticed some entries not well citied or contextualized.
http://pinterest.com/web20education/curation-web20education-by-http-xeeme-com-ecurator/

This has made me feel strongly that my focus of my talk for the socialmedia for nonprofits conference in NYC in two weeks should be on the practice of curation.
Via
Beth Kanter