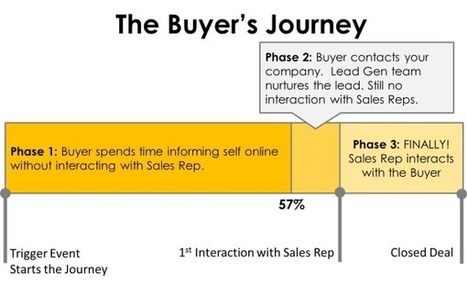 How does Content Marketing help the Sales Rep?
Content Marketing is simply relevant information tailored to your Buyers. The information is distributed to Buyers at each stage in their buying journey. Good Content Marketing is from the Buyer's perspective.

1. Buyers inform themselves before you talk to them: 57% of the buying process is completed before Buyer-rep interaction. (Source – CEB, The New High Performer Playbook, Arlington VA, 2012). By the time you talk to the Buyer, they formed their opinions. Content Marketing pre-wires the Buyer for you. Your ability to close the business increases.

2.When properly nurtured, Buyers spend more: "Organizations that nurture their leads experience a 45% lift in lead generation ROI. Organizations can effectively encourage the right Buyers to engage with Sales at the right time." Your revenue is the return they're talking about. (MarketingSherpa, 2012)

3. Buyer's value your insights during the sale: "53% of B2B customer loyalty is a product of how you sell. Not what you sell." Align yourself with the message of the Content Marketing. Provide valuable insights to the Buyer to assure the lift in revenue. (The Challenger Sale, 2012)
Via
Carolyn Mayberry