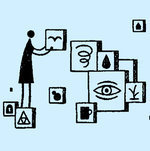 Curated by Beth Kanter
http://www.bethkanter.org
This is a fun essay about visual addictions or "life style yearning" that is what we see mostly on sites like Pinterest and Tumblr. It isn't curation as the author points out:
Not everyone buys into this, of course. Here's The Awl's co-editor, Choire Sicha, for instance, on the subject of rebloggers who fancy themselves curators: "As a former actual curator, of like, actual art and whatnot, I think I'm fairly well positioned to say that you folks with your blog and your Tumblr and your whatever are not actually engaged in a practice of curation. Call it what you like: aggregating? Blogging? Choosing? Copyright infringing sometimes? But it's not actually curation, or anything like it. . . ." To which a commenter added: "My Tumblr isn't so much curated space as it is a symptom of deeper pathologies made manifest."
"Curation" does imply something far more deliberate than these inspiration blogs, whose very point is to put the viewer into an aesthetic reverie unencumbered by thought or analysis. These sites are not meant (as curation is) to make us more conscious, but less so.