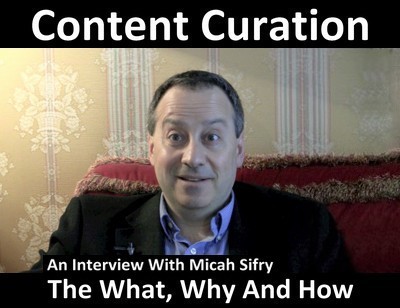 Curated by Beth Kanter
Robin Good did this interview my friend Micah Sifry, co-founder of the Personal Democracy Forum.
Micah's take on why it is important: fighting the filter bubble created by Google - and it encourages data literacy or content curators skills. This is similar view of Clay Johnson, author of Information Diet
http://www.bethkanter.org/info-diet/
Quote from the transcript:
The problem is is that a lot of people just want superficial information. They are not intense news followers. The ones who are, the Internet is this wondrous blessing.
I watch my son, who's almost 18, and he will just spend hours on Wikipedia. He's very happy jumping from reading article to article, and he's filling his head with information. He's not just reading the two paragraphs.
Developing that taste for deep knowledge is a different problem. We're not going to solve it simply because we have the world's best library at our fingertips. That taste has to be inculcated I think much earlier in how we educate our children, and the challenge is to make our children learn how to search well, and how to pull information together well, as oppose to memorize.
Too much of education is memorization and regurgitation, instead of analysis, think for yourself, ask questions, and then know how to find the answers.
Link: http://www.masternewmedia.org/online-curation-the-what-why-and-how-an-interview-with-micah-sifry/#ixzz1kQboZmK1