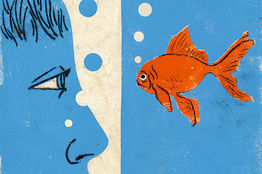 A clever film adaptation of David Foster Wallace's commencement speech to the 2005 graduating class of Kenyon College went viral this week (http://www.theglossary.com/). The filmmakers, known as The Glossary, comment, "the resulting speech didn't become widely known until 3 years later, after his tragic death. It is, without a doubt, some of the best life advice we've ever come across, and perhaps the most simple and elegant explanation of the real value of education." The video is an abridged version of the full speech, which The Wall Street Journal, among others, published after his death in 2008 (click the fish pic for the full text - well worth it). With 2.5 million hits on Youtube in 4 days, the Glossary's film and DFW's words have resonated with a diversity of people, many of whom recognize similar themes from their study of Buddhism and/or meditation.
DFW reflects, for instance, "As I'm sure you guys know by now, it is extremely difficult to stay alert and attentive instead of getting hypnotized by the constant monologue inside your own head. Twenty years after my own graduation, I have come gradually to understand that the liberal-arts cliché about "teaching you how to think" is actually shorthand for a much deeper, more serious idea: "Learning how to think" really means learning how to exercise some control over how and what you think. It means being conscious and aware enough to choose what you pay attention to and to choose how you construct meaning from experience."
Of our treasured, tortured "freedom to be lords of our own tiny skull-sized kingdoms, alone at the centre of all creation," he concludes: "This kind of freedom has much to recommend it. But there are all different kinds of freedom, and the kind that is most precious you will not hear much talked about in the great outside world of winning and achieving and displaying. The really important kind of freedom involves attention, and awareness, and discipline, and effort, and being able truly to care about other people and to sacrifice for them, over and over, in myriad petty little unsexy ways, every day. That is real freedom."