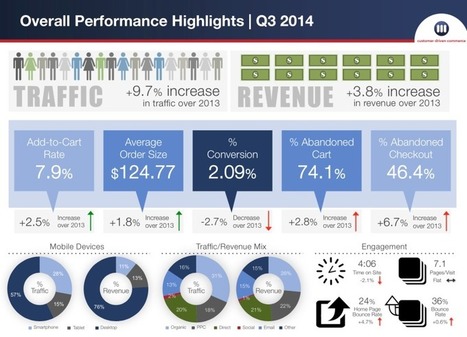 This morning e-commerce platform MarketLive released its Q3 Performance Index. Drawn from its customers' aggregated traffic and conversion data, MarketLive sounded the alarm on mobile commerce: "Merchants must immediately face – and address – the enormous implications and inescapable demands of multi-device shopping and mainstream mobile commerce.
The company said that smartphone traffic to e-commerce sites grew by more than 62 percent and revenue grew 141 percent. Tablet revenue and traffic grew by a more modest 20 percent. Though still dominant, PC-based commerce growth "continued its decline."
PCs generated 57 percent of traffic to e-commerce sites but were responsible for 76 percent of revenues in the aggregate. Smartphones drove 28 percent of traffic but only 11 percent of revenue. Tablets generated 15 percent of traffic and 13 percent of revenue.
The gap between smartphone traffic and conversions is a function of the fact that m-commerce experiences are typically suboptimal. Accordingly and as part of the broader mobile traffic shift, MarketLive reported an overall 2 percent decline in conversions vs. a year ago. Shopping cart and checkout abandonment were both higher as well, up almost 3 percent and almost 7 percent respectively.