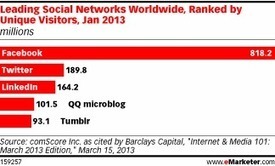 A new eMarketer report assesses social activity in countries around the world. While Facebook dominates, there are regional and country-specific differences in engagement levels and use of other networks.
Asia-Pacific shows interest in mobile messaging as social alternative; Germany leans toward local social sites
On first glance, it might seem possible to sum up the global social network landscape in a single word: Facebook. With almost 1.1 billion users expected by the end of 2013, Facebook has become the top social network in nearly every country in the world except China and Russia. However, it is far from the only social network internet users worldwide access. Even with a clear leader, the global landscape is too complex to be summed up with a single site, according to a new eMarketer report, "The Global Social Network Landscape: A Country-by-Country Guide to Social Network Usage."
What follows is a sample of key social networking trends in various countries.