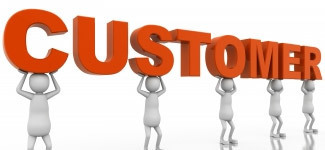 "As a cus­tomer expe­ri­ence advo­cate, it is com­mon for me to be asked, "What is the dif­fer­ence between cus­tomer ser­vice and cus­tomer expe­ri­ence?" While the answer is quite lengthy, the short response is sim­ply this: cus­tomer ser­vice is one ele­ment of cus­tomer expe­ri­ence."
"Cus­tomer expe­ri­ence encom­passes every touch point that some­one may encounter when inter­act­ing with a com­pany – sup­port, sales, and cus­tomer ser­vice. And there are many com­mu­ni­ca­tion chan­nels that com­bine to make a cus­tomer inter­ac­tion with one of the three key touch points a pos­i­tive expe­ri­ence."
"Con­sis­tent mes­sag­ing across all chan­nels and touch points is inte­gral to suc­cess­ful cus­tomer expe­ri­ence and vital to com­pany success."
An interesting side point is those companies who have aligned sales and marketing use a common language. Without doing this, how does a company align messaging to make sure the customer has the Best Buying Experience, which is the beginning of the Best Customer Experience.
Think about it this way, you see something while browsing and click a link. Landing on a page which looks unrelated. Do you stay or keep moving on? Most leave due to a bad experience around poor messaging.
Read the full article for 3 other tips on how to improve your customers experience.
http://www.impactlearning.com/the-difference-between-customer-service-and-customer-experience/