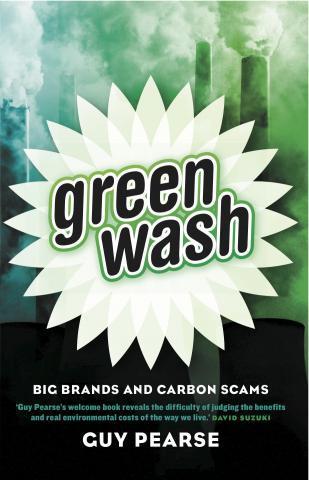 Claims of climate-friendliness made by some of the world's biggest brands. Check the small print, and the responsible green hue soon fades to something resembling bullsh*t-brown (or whatever color denotes hypocrisy). At least that's the conclusion after reading Australian author and researcher Guy Pearse's latest book.
Pearse spent close to four years immersing himself in some 3000 TV commercials and viewing about 4000 print and web adverts, all of which make claims of climate friendliness.
After checking the brand's actual contribution to climate change (or their lack of transparency) in more than 700 company reports, Pearse finds in Greenwash: Big Brands and Carbon Scams that the green revolution is being either grossly overblown or faked.
Some 24 industry sectors, a host of "eco-celebs" and most of the world's top brands are covered in the book and very few emerge unscathed.... Desmogblog http://www.desmogblog.com/2012/10/04/kermit-coal-book-reveals-how-world-s-top-brands-greenwash-public
Via
pdjmoo