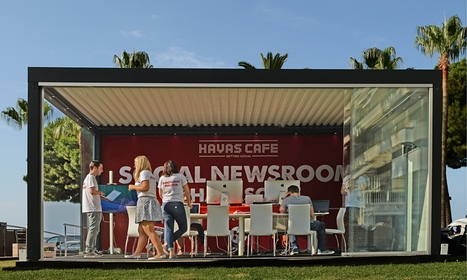 'Content' and 'storytelling' were the buzzwords at Cannes Lions, but Havas' content-creation engine is turning talk into action
Havas' Social Newsroom is a content-creation engine both monitoring and responding to what's been happening at Cannes Lions 2014 this week. With a team of data analysts, content strategists, community managers, creative technologists, production experts, designers, photographers and editors based there from early until late, it's proved a busy week for the team.
The idea behind the Social Newsroom reflects Havas Group's new "together" mantra and "Havas villages" framework, while the initiative itself started at agency Cake in London. "We called it Social Newsroom to show a spirit of collaboration. It's a neutral name and we want to engage the rest of the network," explains Mike Mathieson, Cake's CEO. "There should be a Social Newsroom in every major market. Seeing it live here this week makes a big difference in terms of people understanding what it's all about. But it's not just about reporting, it's about using your own tone of voice too."