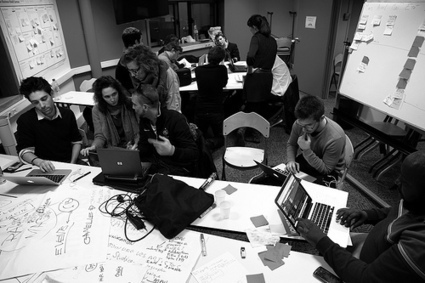 Hackathons are generally about software programming, and the goal is to produce a working app or platform after a marathon coding session. Startup Weekends are about creating an online company (or nonprofit!), with working software plus a business model (nonprofits need those too).
The first thing that happens at these events is that people with ideas pitch their projects to the whole group and then have a very short time to put together a viable team (business types, developers, designers, etc.). If they manage to recruit team members, they get straight to work. Three days later, their projects are already well on their way to becoming a reality. At the end of the session, there's a final pitch/demo and a winner.
MediaLab Session was created by a young French journalist, Romain Saillet, in 2012. What makes MediaLab Session so unique and so specifically French? Well, it's unique in that its focus is exclusively on creating a media startup: anything from a Web TV show to an online magazine or anything else you could imagine as a media channel. So, unlike at typical marathon weekends, most of the projects were pitched by journalists and bloggers. I found it particularly refreshing that about a third of the participants were women, and more than half of the final teams were led by women; proportions you rarely see at typical code- or business-focused weekend hack events.