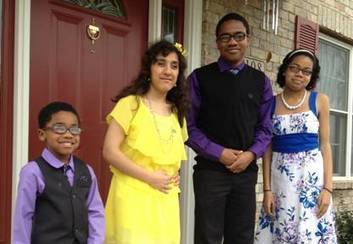 Congratulations to Safira Bibi from Karachi, Pakistan, the May YES Student of the Month! A student at both the Kentucky School for the Blind and Central High School in Louisville, KY, Safira has had "an amazing 'can do' outlook all year," according to her placement organization, ASSE.
After facing limited educational opportunities in Pakistan, she welcomed the challenging environment at both her American schools, and was grateful to be able to study math, science and U.S. history. Safira has experienced a number of firsts this year in the United States.
At KSB, Safira participated in cheerleading and competed in track, winning three ribbons. Through forensics, she discovered her love of public speaking. Although by her own account she had difficulty speaking English when she arrived, she made so much progress that in April, at a speech tournament sponsored by the North Central Association of Schools for the Blind, she took second place for her dramatic reading of Dr. Martin Luther King, Jr.'s "I Have a Dream" speech.An excellent ambassador of her country, she has give ten country presentations and public speeches in all, including presentations at both her schools and at Lions Clubs.