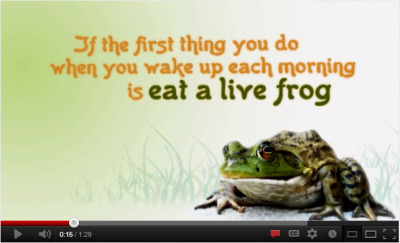 Eating Frogs for Global Classrooms
The chat topic title comes from a nifty Global Education Conference keynote by the awesome social meda maven Beth Kanter. While discussing procrastination, Beth asked us to "eat that frog," as explained by author Brian Tracy:
An old saying is that "If the first thing you do each morning is to eat a live frog, you can go through the day with the satisfaction of knowing that that is probably the worst thing that is going to happen to you all day long!" Your "FROG" is the one you are most likely to procrastinate on if you don't do something about it now! It is also the one task that can have the greatest positive impact on your life and results at the moment. ...