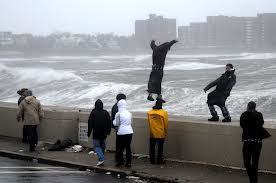 T'is the season when stories of death, destruction, and the end of the world from climate change appear daily.
From a global warming skeptic, in Forbes Magazine. Sample:
"Stories that sea levels have risen dramatically around New York City because of global warming are a bit of a stretch. The continuous record of water level at Battery Park shows a pretty steady rise of about 17 inches since 1856. About half of this was caused by the fact that the land is sinking (as shown in 2009 by S.E. Englehart in Geology). The post-1850 escape from the Little Ice Age of the 17th and 18th centuries is probably good for about a third of the remainder. That leaves a maximum six or seven inches of sea level rise remaining from human-induced warming (probably less), which is pretty small beer.
So, of the 17.34 foot record elevation of the station base sea level caused by Sandy, yes, a maximum of about six inches might be related to human activity. Obviously, if there were no Homo sapiens, Sandy would have caused pretty much the same overwash, with or without warmer seas."