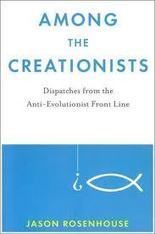 Being one of my occasional forays away from geology into the general creation-evolution debate: YEC biologist Todd Wood reviews a journalist's investigation into the world of ID and YEC. Both reviewer and author are not easily pigeonholed into the standard caricature of atheistic humanist or Christian creationist, and I tend to agree with a lot of the points that both of them make.
Samples:
"Early in the book, he confesses that interacting with creationists changed his outlook. "They are no longer defined by a few odd beliefs you have heard that they hold. They become actual people, with depth and personality and reasons for the things they believe" (p. 15). This personal experience leads him to conclusions that I have to suspect aren't very comfortable for him. Whereas he affirms the usual claim that "the concept of an infallible source of information about nature entails the abandonment of the scientific method" (p. 51), attending the International Conference on Creationism (ICC) seems to have softened that judgment. At the ICC, he found creationists…who, so far as I can tell, are motivated by entirely the same considerations as mainstream scientists. They are trying to understand nature as best they can. That they begin from a premise most of us would regard as highly improbable has no relevance to that determination (p. 188)."
...
"On other subjects, Rosenhouse provides quite simple refutations that are literally impossible to argue with. Consider the common creationist argument that mutations are always detrimental or lead to a loss of information, as found in the work of Werner Gitt or John Sanford. I have always felt uncomfortable with such claims, mostly from the perspective of their implausibility. My own experience with genomics leads me to believe that most mutations do next to nothing, good or bad. Leave it to a mathematician to notice a more glaring problem:
It is a logical impossibility for all mutations to degrade information. Mutations can reverse themselves, you see. If the mutation changing A into B causes a loss of information, then the reverse mutation from B back to A must represent a gain of information (p. 65)."