Scoop.it!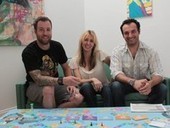 A pair of Redding entrepreneurs have created a board game that can be incorporated into classroom curriculums.
Delmai George's insight:
The creators designed this game to build real life skills for teenagers,using their engagement with playing video and board games together as stimulus. The board game helps students develop skills in applying for jobs and developing business ideas. They feel that a physical product like a board game brings a personal aspect to skill production,connecting students with each other locally as an alternative to being connected globally behind a computer screen.
Computer games also have their counterparts as tabletop games, for example Dungeons and Dragons. Set a design task for students in groups to develop a board game using ideas generated from their favourite video game scenarios making it suitable for a younger audience. This would require students to recognise the different rules and reward systems operating within the video games and make adjustments for the physical counterpart.
Design and Technologies
6.6 elaboration: deconstructing the components, structure and intentions of products, services or environments to identify the importance of complementary parts of working,everyday systems
Higher order thinking skills are developed as they critically analyse the similarities and differences between virtual and physical games. Collaborating in groups, creative thinking through completing design tasks and building systems thinking are a fundamental part of the Australian Curriculum: Technologies subjects.