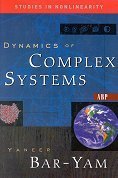 Textbook for seminar/course on complex systems.
View full text in PDF format
The study of complex systems in a unified framework has become recognized in recent years as a new scientific discipline, the ultimate of interdisciplinary fields. Breaking down the barriers between physics, chemistry and biology and the so-called soft sciences of psychology, sociology, economics, and anthropology, this text explores the universal physical and mathematical principles that govern the emergence of complex systems from simple components.