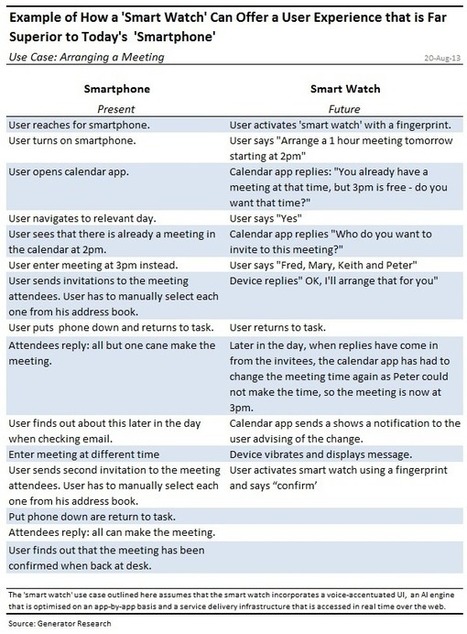 Some of the most interesting applications of wearable technology will come from the fusion of technologies such as artificial intelligence and big data.
What would your colleagues say if you asked them what wearable technology was, or what it can do?

You'll quickly hear about smart watches like Samsung's Galaxy Gear, fitness trackers like those produced by Fitbit and smart glasses projects like Google Glass.

As for what these products can be used for, after a bit of thought most people would come up with a few sensible use cases – like taking pictures using voice commands, keeping track of your daily calorie expenditure or receiving inbound messages.

Now try asking what wearable technology might be used for in the future – as in 10 years in the future?

It's at this point that you'll probably start getting blank looks.

In this research paper we describe 8 remarkable use cases for wearable technology that we believe will become possible within 10 years.

These 8 use cases are several full market cycles ahead of those that Google has envisaged for Google Glass.

Some of the most interesting applications of wearable technology will come from the fusion of three different technologies:

Advanced wearable products: The three main wearable technology product categories are body sensors, smart glasses and smart watches. We expect dramatic improvements in all three categories in the coming years - in terms of capabilities, optimization of the user interface, size, battery life and price;

Artificial intelligence (AI) platforms: Technologies like Now (Google), Siri (Apple), Cortana (Microsoft) and, most recently, IBM's decision to provide mobile app developers with access to its supercomputer platform, Watson point to a future where it will be possible for users to carry out advanced web tasks simply by speaking or, in some cases, just thinking;

Big data: Whether it is the location of an individual, data about an individual's search history or ad preferences or even information about what that person was looking at 30 days ago there is no shortage of data. If developers can gain opt-in programmatic access to very granular data about a user's behavior – a goal that is extremely important to Google – then a whole panorama of new service possibilities will open up.

We think that when all three of these technological ingredients are combined then some truly remarkable and, in some cases, rather unsettling use cases will become possible:
To read the full article, click on the image or title.
Get your Free Business Plan Template here: http://bit.ly/1aKy7km
Via
Richard Platt
,
Fang Yang