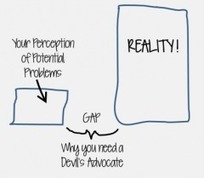 Everyone has heard of "yes" men in business, but do you have "no" men? These are the people who will play devil's advocate. Every business leader needs one.
I have taken this advice. In fact, my entire team is made up of "no" men. And, let me tell you, it's hard.
H-A-R-D!
When you start a business from the ground up, put all of your sweat, tears, heart, and money into it, and have your entire life wrapped into it, it's really hard to hear your baby is ugly.
To read the full article, click on the image or title.
Get your Free Business Plan Template here: http://bit.ly/1aKy7km
Via
Thomas Faltin