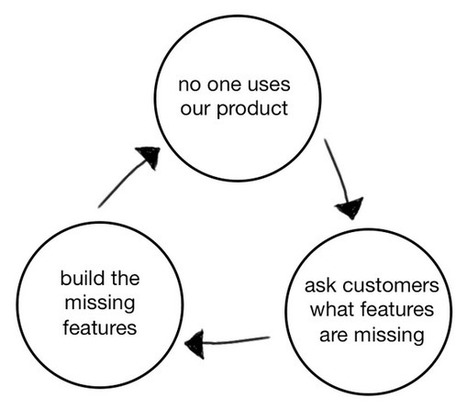 The hardest part of any new product launch is the beginning, when it's not quite working, and you're iterating and molding the experience to fix it. It may be the hardest phase, but it's also the most fun. The Product Death Cycle All of this was on my mind when I saw a great tweet from about a year ago, on the Product Death Cycle, when things go wrong. David Bland, a management consultant based in San Francisco, tweeted this diagram:
This is what I'm calling the Product Death Cycle
– @davidjbland
A year ago when I saw this, I retweeted this diagram right away, and a year later, it's hit 1,400+ RTs overall. This diagram has resonated with a ton of people because sadly, we've seen this Product Death Cycle happen many times. We've maybe even fallen into it ourselves – it's all too easy. I've written about this phase before, in After the Techcrunch bump: Life in the Trough of Sorrow. As well as some thoughts and strategies related to getting to product/market fit sooner rather than later.
Let's talk about each step of this cycle, why it happens, and present a list of questions/provocations that might allow us to escape.
Read more: click image or title.
Need funding?
Get your Free Business Plan Template here: http://bit.l/1aKy7km