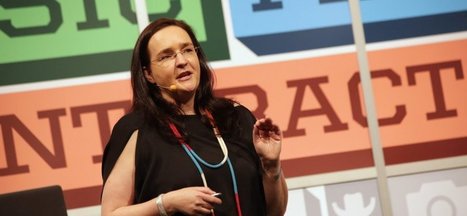 Emergency confetti is more important than you might think.
Tina Roth Eisenberg, a Swiss-born designer also known as Swiss Miss, runs four businesses with just 17 employees. And they're not small businesses. The one for which she is probably best-known, an event series called CreativeMornings, hosts monthly events in 100 cities. Tattly, another of her companies, makes temporary tattoos that have been sold by the Tate Modern. Her to-do list app, TeuxDeux, has fans such as Seth Godin and the blog Design Milk. And oh, she runs a co-working space in Brooklyn's Boerum Hill neighborhood, called Friends. (An earlier version of this story said that Eisenberg had five employees. She clarified that CreativeMornings has five employees.)
How does she do it? At a breakfast hosted by podcast series Broadmic and co-working space LMHQ earlier this month, Eisenberg spoke with early-stage investor and startup advisor Kelly Hoey about her journey as an entrepreneur. Depending on your perspective, Eisenberg's keys to success are going to warm your heart or make your eyes roll: Fun. Love. Trust. And, of course, emergency confetti.
Here are a few of the maxims that Eisenberg says she, and her businesses, live by. Read more: click image or title.

Find or list funding opportunities:
www.Business-Funding-Insider.com