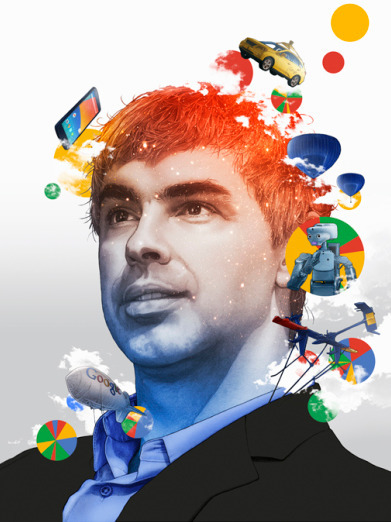 As Google's core business continues to thrive, Larry Page is making huge bets on new technology that could define the future.
There's a joke about Larry Page that's been making the rounds at Google X, the "moon shot" factory where Google is developing self-driving cars, high-altitude wind turbines, and a fleet of stratospheric balloons to blanket the world with Internet access: A brainiac who works in the lab walks into Page's office one day wielding his latest world-changing invention—a time machine. As the scientist reaches for the power cord to begin a demo, Page fires off a dismissive question: "Why do you need to plug it in?"
It's a tall tale that is repeated affectionately by the whizzes inside the futuristic lab because it captures the urgency and aspiration of their boss to move technology forward. The Google CEO is the kind of guy who thinks the improbable is a given and the seemingly impossible is likely. He's not one or two steps ahead of his engineers and research scientists; he often seems to inhabit an alternate universe, where the future has already happened.
More here: http://fortune.com/2014/11/13/googles-larry-page-the-most-ambitious-ceo-in-the-universe/
Via
Justin Jones